2015 Zanesville Prize Finalists Gallery
2015 Zanesville Prize Finalists Gallery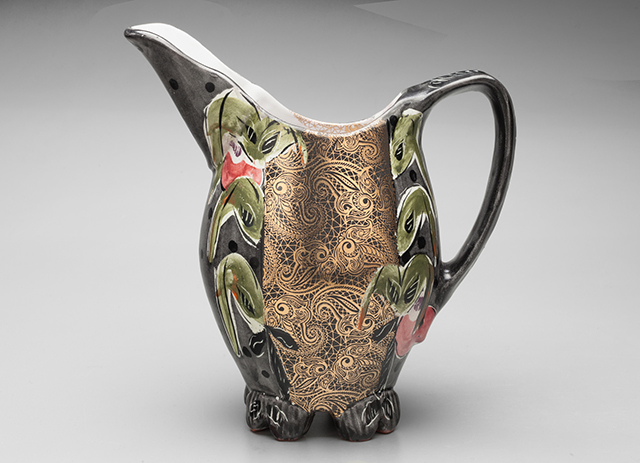 Artist: Posey Bacopoulos
Title: Paisley Pitcher
Year: 2015
Dimensions: height: 9 Inches, width: 8 Inches depth: 4 Inches
Clay body: Terra Cotta
Surface treatment: Majolica Glaze Gold Decal
Technique: Thrown, Altered and Assembled
Photographic credit: Kevin Nobel
Artist's Statement: This Paisley Pitcher is made from wheel thrown and altered sections which are made separately and then assembled. The majolica decoration is a contemporary approach to the majolica of the Italian Renaissance. My floral motifs are patterns rather actual representations which serve to divide the space in interesting ways. It is fired to 04 and then a third firing adds the gold decal. I strive to make work that is both beautiful and functional at the same time.


---

By purchasing this item, you understand and agree to loan the purchased piece to the Zanesville Prize and Zanesville Museum of Art (ZMA) for the remainder of the exhibition. The price listed DOES NOT include shipping chares which will be billed to the buyer. The piece will not be available to you as the buyer until it is released from the exhibition in mid January 2016 by ZMA. Some pieces MUST be installed by the artist; expenses for artist installation are not included and must be arranged between the buyer and artist.