2015 Zanesville Prize Finalists Gallery
2015 Zanesville Prize Finalists Gallery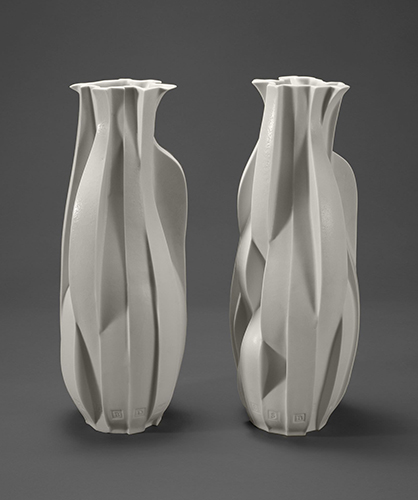 Artist: Sharan Elran
Title: Unlimited Edition-1 of 6,227,020,800
Year: 2012
Dimensions: height: 16 Inches, width: 6 Inches depth: 6 Inches
Clay body: Porcelain
Surface treatment: Glaze
Technique: Digitally fabricated mold and slip casting
Photographic credit: PD
Artist's Statement: My goal with this project is to create a unique art piece for every person on earth. For this purpose I designed a mold comprised of 14 different pieces that can be re-arranged in a different sequence before each cast. The total number of unique permutations is 6,227,020,800 which roughly correlates to the current world population
Price: $400 per vase, three are in show available to purchase.