2014 Zanesville Prize Finalists Gallery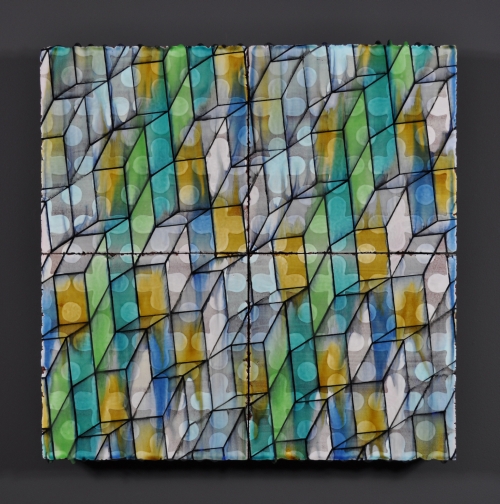 Artist: Jason Green
Dimensions: 24.5" x 24.5" x 3"
Medium: terra cotta, slip, glaze, 24.5" x 24.5" x 3"
Artist's Statement: I am interested in the fluctuating relationships between physical space, the body, time and memory. My work stands as a suggestive fragment aiming to remind viewers of their connection to and experience living in specific places. It is informed by themes, ideas and motifs that are shared between different cultures and time periods. Decorative patterns lifted from history recall how layers build up over time, each contributing to the memory and history of spaces. The digital tools I use to design surfaces are combined with processes adapted from traditional methods of hand-making architectural ceramics. The overlapping of patterned and transparent layers both hides and reveals form while suggesting the effects of environment, time and erosion on historic surfaces. My work and process embrace the polarities of interior and exterior, fluid and static, fragment and whole, new and old. These are amplified by a vocabulary of form, color, texture and pattern that is familiar - but in a new combination. As surfaces optically waver between dimensional projection and recession, the physical properties of the object are simultaneously undermined and reinforced. As the work changes our perception of space and presence it evokes thought of permanence and impermanence.