2014 Zanesville Prize Finalists Gallery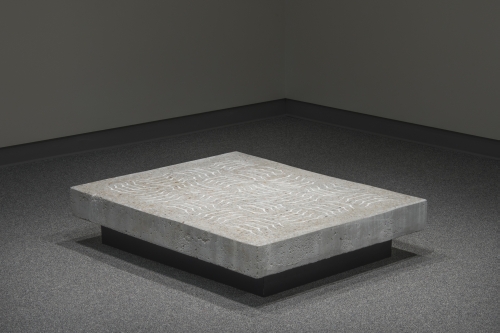 "Artist: Thomas Edwards
Dimensions: 12"" x 34"" x 45""
Medium: Concrete and wheel thrown porcelain.
Artist's Statement: For millennia, pottery has facilitated the communal activities of eating and drinking. I use pottery as a placeholder, a metaphor for human interaction. The central core, the initial inspiration, of my sculpture is the diminishing level of connection our culture actively pursues. I use a variety of utilitarian forms in my artistic investigation. Wheel throwing provides a means of producing similar sized elements with a degree of variation that adds richness to the composition. These ceramic objects, embedded in monolithic structures, are deliberately culturally ambiguous. The monoliths are memorials, fossils that symbolize the departure from shared communicative experience. Conceptually, I made the decision to deconstruct useful objects to evoke the idea of how shards of pottery are used by archeologists to gain insight into how a society functioned, its rituals, and how its society was structured. By grinding a portion of the vessel away, I deliberately create shards, pottery that is no longer able to fulfill its intended function. The purposeful denial of utility, created by erosion, is an additional reference to the initial foundation that began this work."