2014 Zanesville Prize Finalists Gallery
»

Felipe, April - Down it went without a look back, like a river running out of time

2014 Zanesville Prize Finalists Gallery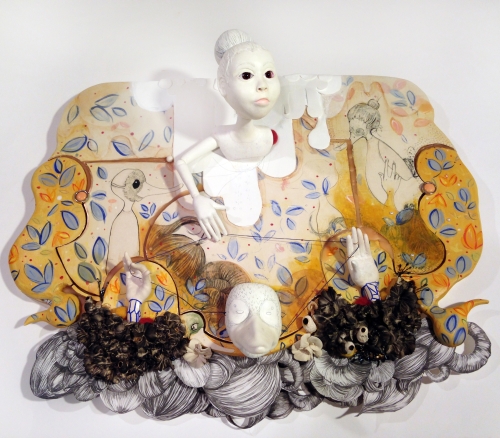 "Artist: April Felipe
Dimensions: 25in x 20in x 9in
Medium: cone 6 porcelain mix-media
Artist's Statement: Growing up, people begin to deal with the idea of identity, not just who we are but how we place ourselves within groups beyond our families. In this work I consider the tale of The Ugly Duckling, a narrative that perpetuates visually belonging, and the reward of finding ones "true" place. What happens when that ugly duckling is not a swan but simply a duck? My work explores this narrative and the constructed nature of the past to reveal our desire for belonging. This work is a 24in x 19in x 9in wall piece created using hand built porcelain forms with under glaze transfers and drawings , collaged with gouache , felt, hair, graphite , paper clay, acrylic paint, soot, found object and a variety of papers."