2014 Zanesville Prize Finalists Gallery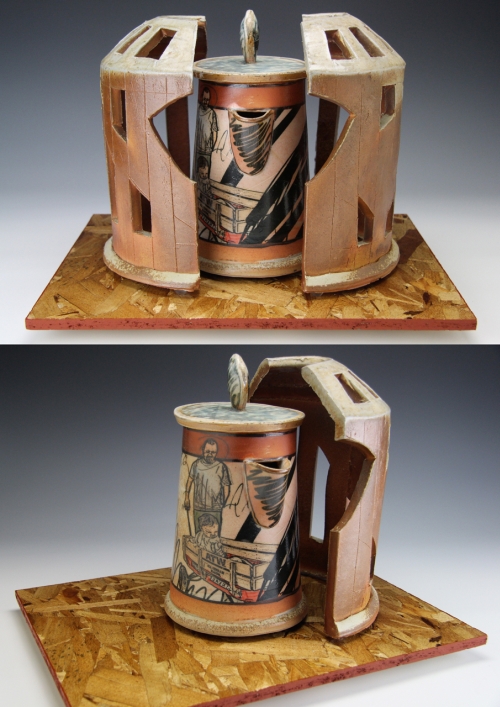 Artist: israel davis
Dimensions: 11.5" x 16" x 12"
Medium: screen-printed with commercial underglaze, slip, white stoneware, recycled clay, wood-fired cone 11, particle board
Artist's Statement: This piece, selected from my latest series of wood-fired vessels, encapsulates an interest in action and discovery. It is an assembly of a screen-printed coffee pot displayed within its baffle (a perforated saggar). For me the assembly is representative of both the intent to control how flame circulates around an object and an expression of dream-like sentiment imbued through its atmospheric effects on the imagery. What I seek is the unison of ash, atmosphere, and imagery. Due to the variable nature of wood firing there is always a mode of discovery where nothing is quite predictable. To find balance takes making the same piece more than once. Experience gives rise to contemplation, new ideas, and implementation, however, the next firing lingers continually toward the notion of "dialing it in" that much further. I suppose what really drives me to make this work is the desire to be both genuine in my expression and serious about how that expression is produced. The time taken to make the objects and organize the firings, the sense of community created during a firing event, and technical investigation converge to become a form of creative alchemy that I enjoy as an artist.