2014 Zanesville Prize Finalists Gallery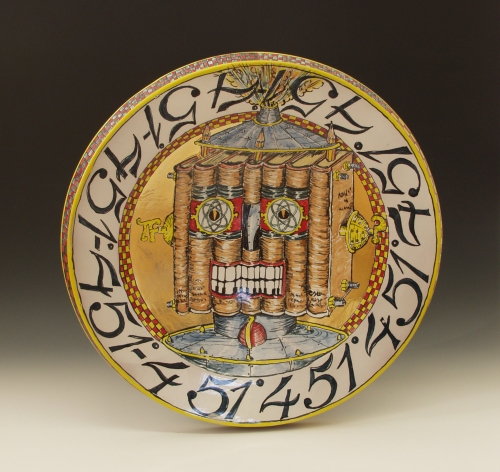 Artist: William Brouillard
Dimensions: 22""x 22""x 4""
Medium: Red earthenware
Artist's Statement: "Digital Fahrenheit 451" is one of an ongoing series of wall platters, painted in the majolica style, that reference the role of technology in our lives. Like the story of the firemen who burn books in "Fahrenheit 451'" our new technology has become a de-facto fireman. Books have taken on non-corporeal forms and paper books have begun to vanish as if combusted by the energies of our new technologies.

The platter was fabricated using the potters wheel and then bisque fired to cone 05. It was then glazed with a shiny white opaque glaze. A pencil drawing was done on the unfired white glaze followed by over-glaze brush work on both front and back of the platter. It was then glaze fired to cone 04 Oxidation. A gold lustre was applied and then the platter was re-fired to cone 018.

Price includes stand.