2014 Zanesville Prize Finalists Gallery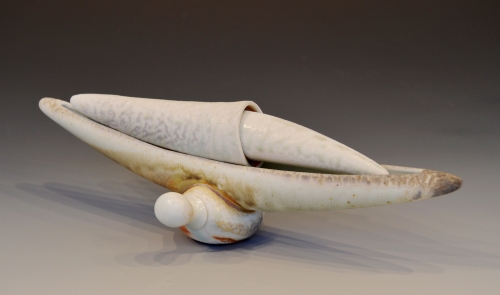 Artist: Joe Davis
Dimensions: 12.5" wide 3.75" deep 3.75" tall
Medium: Wood-fired porcelain
Artist's Statement: "Hold" is another exploration of form and space, interior and exterior. The inside of the lower piece is glazed with a sky-blue celadon that was later sandblasted to give another layer of softness to the interior. The exterior surfaces of these stacking forms are unglazed, wood-fired porcelain, and they display many different variations of one kiln and one firing on one clay body. The physical shapes of this piece were inspired by the work of Karl Blossfeldt, who dried and photographed plant specimens for science, and later for his own art. The forms used in "Hold" are abstractions of fruit forms and are also somewhat reminiscent of seed pods.