2014 Zanesville Prize Finalists Gallery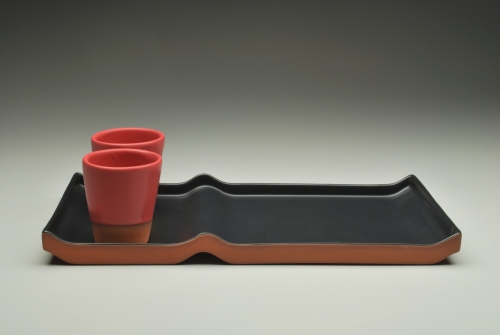 Artist: Paul Eshelman
Dimensions: Ht. 1.5""(4"") x W. 17.5"" x D 9""
Medium: Red Stoneware
Artist's Statement: The rectilinear tray is given movement via smoothly articulated rises at the ends and asymmetric division in the body. The flowing line of water-formed sand is suggested. The cups with comparable curves ride the tray, waiting to be used. The divided nature of the tray accommodates food and utensils suggesting a myriad of serving possibilities. The original plaster models were sawn, turned and pieced together. Molds were made from which the tray and cups were slip cast in red stoneware. The unglazed exterior of the tray helps define the wavelike motion of the rim."